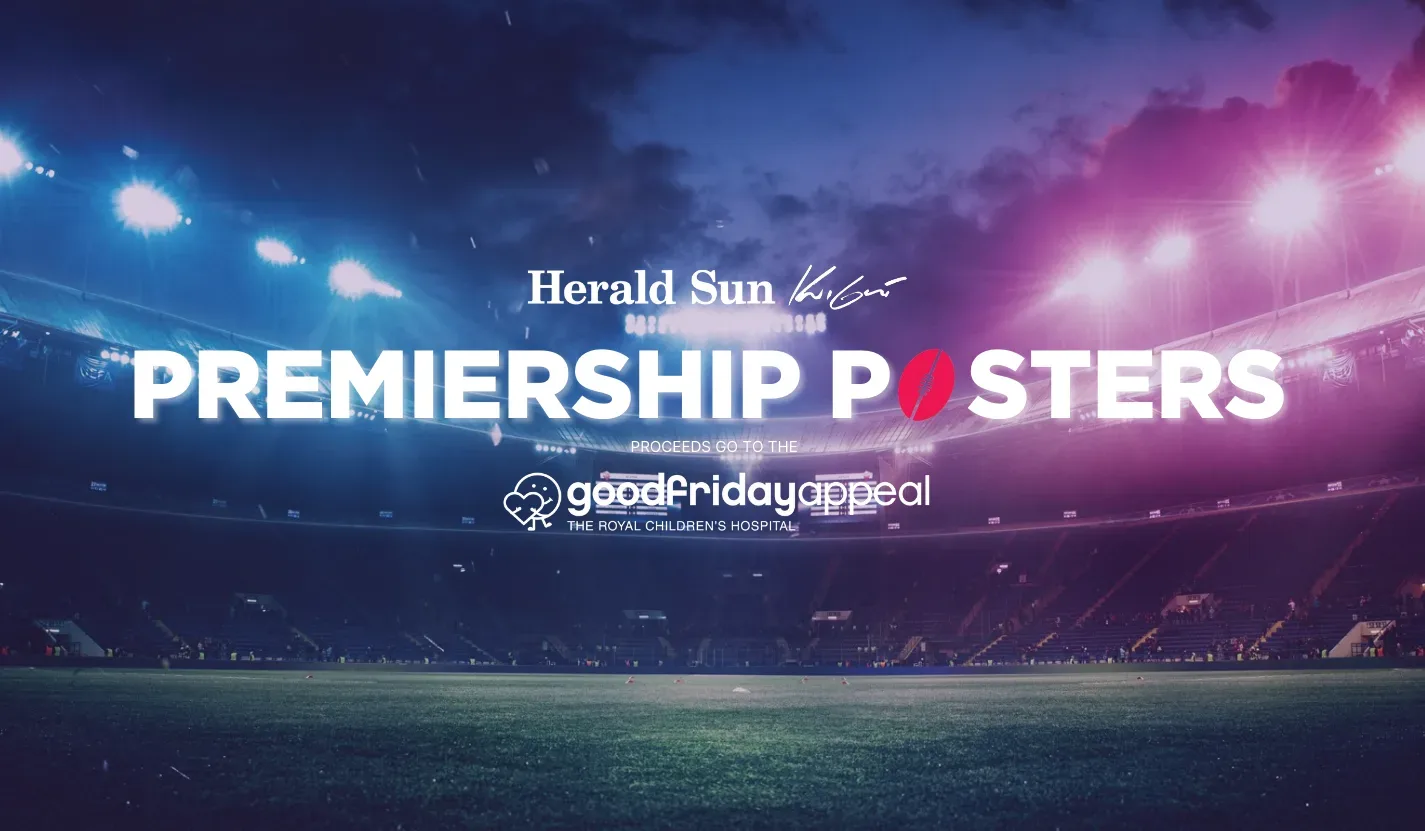 Congratulations to Collingwood Football Club on their amazing Premiership Win!
The official Mark Knight Premiership poster is now on sale online.
The Herald Sun's premiership poster is the only premiership poster officially endorsed by the AFL.
The Herald & Weekly Times have been publishing an official Grand Final poster of the AFL/VFL premiers for 70 years.
This year marks the 15th year the posters have been created by Herald Sun cartoonist Mark Knight.
More than $6 million has been raised for the Good Friday Appeal from poster sales over the past 70 years.
Full details on where you can purchase the premiership posters are below.
Poster prices
$5 – paper poster
$20 – laminated poster
From $40 – Limited Edition posters (only 1000 printed, individually numbered and printed on heavy gloss stock).
$70 – block mounted poster
Postage and handling fees apply when purchased online. A signature will be required on delivery for Limited Edition posters. Please allow up to 28 days for delivery.
Proceeds from sales go to the 2023 Good Friday Appeal.
Please purchase your posters through our official channels listed below.
Where to buy
From Saturday 30 September 2023 – following the final siren
Online – All posters are available to purchase online through the Herald Sun Shop
MCG Concourse – Posters will be sold at the MCG concourse following the final siren
Remember MCG is cashless – onground sales will be by credit card only
From Monday 2 October 2023
Online Payment and shipping
The Herald Sun online shop accepts credit card only
Shipping to domestic and international addresses available – additional costs for postage and handling
Please allow 28 days for delivery in Australia. Please note there may be some delays due to Australia Post delivery times.
Limited editions
Auction for Limited Edition posters 2-50 is now closed. The winners will be notified via email or SMS (if opted at the time of bidding). Congratulations to all the winners!
If you have missed out, please head to the Herald Sun Shop online to purchase more posters and merchandise. Thank you.
On Sunday, October 1, 2023 at 10am – an allocation of Limited Edition posters and Limited Edition foil prints will be released for sale.
Additional Merchandise
Additional merchandise will be available to purchase through the Herald Sun Shop online.
Questions
If the purchasers' question is not answered on the HS Shop in the first instance (with the same information as below), then please direct enquiries to hsshop@news.com.au