Meet Harry
When Harry Munro started prep this year, it wasn't the playground or the school books that excited him. It was another child who had a scar just like his.
The Mount Martha boy was born with "half a heart", a condition known as hypoplastic left heart syndrome.
He carries the wounds of four open-heart surgeries, where surgeons cut from the top of his chest to below his belly button to "change the plumbing" and ensure enough blood was getting pumped through his tiny body.
"He's a bit of a pincushion," Harry's mum, Simone Munro, said.
A routine 20-week scan had revealed to Ms Munro and husband Chris there was something wrong with their unborn son's heart.
And when he was whisked away to the Royal Children's Hospital after birth, the family was given a taste of what was to come.
"The left side of Harry's heart didn't grow so they had to change the plumbing to make the right side do both jobs,"

Ms Munro said
"They changed the way the blood circulates to a single circuit."
The first time he was wheeled into an operating theatre Harry was just three days old.
The next, he was three months old.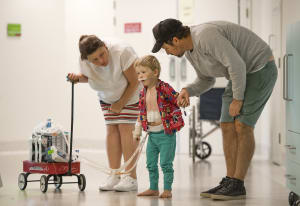 And two more open-heart surgeries followed.
After the four major operations, hospital stays and doctors appointments, Harry, who has just started prep, is "thriving".
"He loves school," Ms Munro said.
"He's thriving at school. Loves reading and maths. He's a planner.
"He loves caravans and building things, he loves bossing people around.
"He's becoming more aware of his scar, (but) he says now he has a special heart."
The youngster will be under the care of the RCH for the rest of his childhood, but for now he can enjoy just being Harry.
"He's so much more than a kid with a heart condition. He's a really good kid,"

Ms Munro said