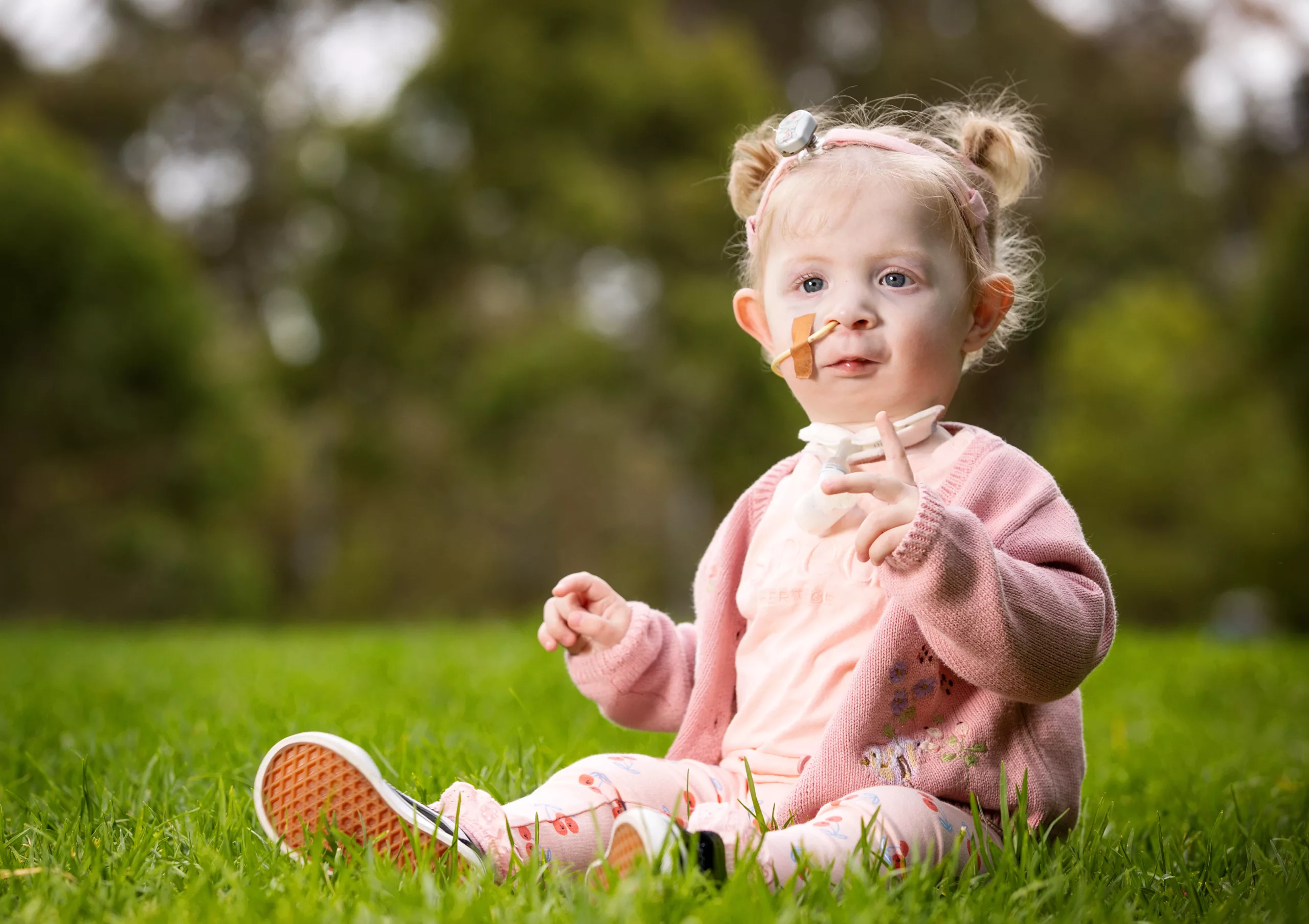 Kaiah winning the fight of her life
'We didn't think we'd get here'
THE smiling toddler stands in a park at The Royal Children's Hospital bobbing her head to the rock music she always asks her parents to play.
It's a simple sight, but it means everything to parents Chantelle Colafella and Denis Maloney, who were told their danc-loving child had a condition so rare she was the only one in Australia, and so complex she would never walk or talk.
But here is 20-month-old Kaiah, laughing as she stands on her own two feet and signs to her parents outside the hospital that saved her life.
Even before Kaiah was born her parents knew she had a battle ahead.
Ms Colafella said after her waters broke at 17 weeks it was "touch and go" until Kaiah was delivered at 36 weeks, with doctors warning her daughter's airways may not be strong enough to survive her birth and the "intense" surgery ahead.
Kaiah is one of about 60 known children worldwide born with a syndrome that causes breathing and feeding issues called ­cerebrocostomandibular syndrome.
Ms Colafella said Kaiah had a small jaw that would never grow – she faces up to 10 repeat surgeries to adjust it as she gets older. Her rib cage is missing ribs, while those she does have are "in pieces".
"We came over here (to the RCH) when she was six days old and we were in for three months," she said.
But thanks to an incredible team of workers – from doctors and nurses to the physiotherapist who convinced Ms Colafella it was OK to hold Kaiah – their daughter is now "flourishing" at home, with her parents trained to care for her tracheostomy.
She said they "couldn't be prouder of this kid" who communicates via "baby sign language" known as "quick sign" as the tracheostomy required to help her breathe prevents her from speaking.
"We didn't think we'd get here but here we are," Ms ­Colafella said.
"She's very intelligent. She's very sassy, she's very bossy, but it's great because I know that she's got fight in her."
Kaiah loves dancing, music – her favourites include nursery rhymes, John Butler and heavy metal – and playing with her two older siblings.
"She's just flying along," Ms Colafella said.
"We thought she'd still be ventilated at this point.
"She's holding my hand and walking and doing everything they said she wouldn't do."
When asked what the hospital and Good Friday Appeal meant to their family, she couldn't hide the tears.
"We're just so grateful and humbled," she said.
"Those ventilators are so expensive … and we got sent home with two.
"If it wasn't for the hospital, she wouldn't be here. End of story.
"If it wasn't for the Good Friday Appeal, we wouldn't have her."
There can't be any greater reason to donate to the Good Friday Appeal than that.