Woolworths supermarkets raised an incredible $527,062 for the Good Friday Appeal with their Easter Appeal where customers could add a $2 token to their shopping or Round Up their purchases at Self Checkouts to Give for the Kids.
Their overall donation for the 2022 Appeal was a massive $1,353,909, which they presented on the Telethon on Good Friday.
This year is the 35th year that Woolworths has supported the Good Friday Appeal with fundraising initiatives to make a difference for sick kids and their families.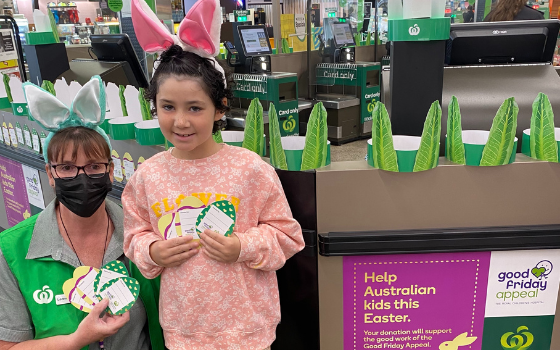 Woolworths teams and customers have raised $25 million
Woolworths and the Good Friday Appeal have had a special partnership for 35 years. Since 1987, the generous Woolworths team and their customers have raised more than $25 million to help make a difference for sick kids.
The Woolworths stores across Victoria and southern New South Wales are passionate about making a difference for patients and their families through in-store fundraising, including wall token campaigns, Round Up, the Donation Buttons and selling AFL premiership posters. They also hold staff fundraising events and activities, and support Appeal fundraising activities, including providing raffle prizes and holding the popular Woolworths Fresh Fair at Kids Day Out.
Your Impact
The funds raised in Woolworths stores are dedicated to a range of support programs that help children feel more comfortable about being at the Hospital and having procedures, and help sick children get better.
The programs include Child Life Therapy, Comfort Kids, the Be Positive Show and the Hospital Lingo game show.
Watch the video below to learn more about how funds raised in Woolworths stores help patients and their families.
Thank you, Woolworths!