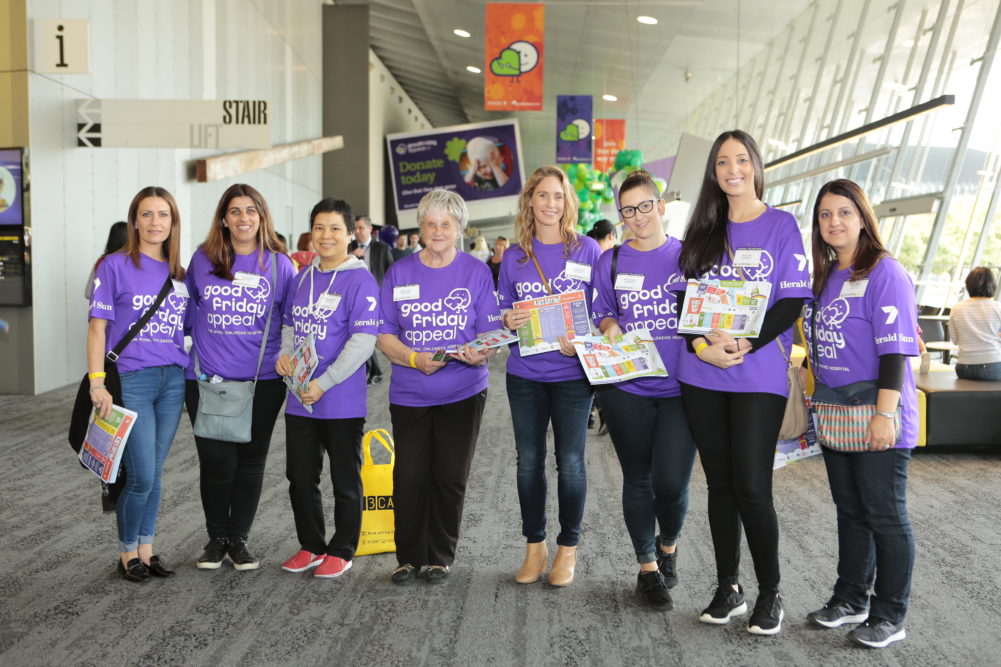 ROYAL CHILDREN'S HOSPITAL GOOD FRIDAY APPEAL
Good Friday Appeal Event 2021 Terms and Conditions
Event Manager: The Royal Children's Hospital Good Friday Appeal Limited (ACN 164 460 619) is the Event Manager.
Event: 2021 Good Friday Appeal Telethon at the Melbourne Convention and Exhibition Centre (MCEC), fundraising activities at Marvel Stadium and all registered and approved Good Friday Appeal fundraising activities.
Volunteer agreement: By ticking the box or signing and dating the volunteer registration form, the volunteer agrees to volunteer for the Event Manager at the rostered Event, and to conduct the role as set out in the individual confirmation letter prior to the Event on the terms set out in this document.
Minimum age: Volunteers must be 18 years of age or older by 2 April 2021 to volunteer.
Applications, acceptance and availability: The Event Manager has the sole discretion in accepting or rejecting applications for volunteers, and this discretion may be exercised on any basis, including where the required number of volunteers has been reached. The decision of the Event Manager in accepting or rejecting an applicant is final and no correspondence will be entered into. If unable to attend the Event, the volunteer must notify the Event Manager ASAP if they can't attend.
Police Check: All Volunteers must provide a copy of a current Victoria Police Check or Federal Police Check (issued from at least 1st January 2021 onwards), a current Working with Children Check or a current Victorian Institute of Teaching Registration to work at the Event.
Required training: Volunteers in specialised areas will require training and will be contacted prior to the event. All other volunteers will receive induction prior to their shift.
Entry and access: Each volunteer given access must read, understand and comply with any conditions of entry for the Event and must comply with any directions from the Event Manager regarding access, accreditation and movement around the Event.
Accreditation: Each volunteer must collect their own accreditation from the MCEC or Marvel Stadium. A Government issued photo ID (e.g. Driver's License, Passport, etc.) must be shown in order to collect accreditation. Volunteers must collect their own accreditation and to do so must show photo ID. The provided names must match photo ID to obtain entry to the venue.
Performing your role: Each volunteer must act in accordance with the role description assigned to them and in accordance with any directions given to them by the Event Manager. Each Volunteer agrees to keep all Good Friday Appeal fundraising information disclosed to it or otherwise obtained by it in connection with performing their role, confidential.
Volunteer conduct: Each volunteer must act honestly, in good faith, to the best of their abilities, in the spirit of the Event and in a proper, appropriate and professional manner with all due skill, care and diligence. This includes (without limitation) upholding the good reputation of the Event and the Event Manager, being unimpaired by alcohol or drugs and not acting offensively, aggressively or in breach of any laws or in a way that is otherwise inappropriate. Volunteers must also follow all instructions from the Event Manager (or any supervisor or other person authorised by the Event Manager), any Event personnel (such as a representative of the MCEC or Marvel Stadium) or any member of Victoria Police, local law officer or Emergency Services representative. If the Event Manager considers that a volunteer breaches these terms and conditions, they may direct the volunteer to cease all involvement with the Event immediately and the volunteer must comply.
Health and safety: Each volunteer must be safe and responsible at all times and must comply with all safety policies, procedures and directions notified by the Event Manager, MCEC or Marvel Stadium. Each volunteer warrants that the medical information that they have included on the Volunteer Registration Form is accurate and that if they become aware of any medical condition or impairment that will be detrimental to their health if they volunteer in the Event, or are otherwise sick or injured prior to the Event, that they will notify the Event Manager.
Emergency treatment: Each volunteer consents to receive medical treatment that may be deemed advisable in the event of injury, accident and/or illness during the Event.
Volunteer risks: Each volunteer acknowledges that volunteering and activities related to the Event may involve risk of injury or accidents with other volunteers, participants, and spectators.
Release and indemnity: Each volunteer acknowledges that (to the extent permitted by law) they volunteer in the Event at their own risk, and in consideration of and as a condition of acceptance of their application to be a volunteer in the Event he or she agrees:

to release and forever discharge (to the extent permitted by law) the Event Manager, the MCEC, Marvel Stadium, and the Event sponsors and promoters and each of their agents, affiliates, employees, members and any other person or body directly or indirectly associated with the Event ("those indemnified") from all and any claims, demands or proceedings arising out of or in connection with his or her performance of tasks (or failure to perform tasks or to perform tasks adequately) as a volunteer in the Event; and
to indemnify those indemnified and to keep them indemnified against all liability for all injury, loss, cost, expense, liability or damage arising out of or in connection with his or her attendance at the Event and performance of tasks (or failure to perform tasks or to perform tasks adequately) as a volunteer in the Event, to the extent that:

the volunteer acted other than in good faith;
the volunteer was negligent;
the volunteer knew, or ought reasonably to have known, that at the relevant time he or she was acting:

outside the scope of the work organised by the Event Manager; or
contrary to any instructions given by the Event Manager; or

the volunteer's ability to act in a proper manner was, at the relevant time, significantly impaired by alcohol or drugs.This release and indemnity continues forever and binds each volunteer's heirs, successors, executors, administrators, personal representatives and assigns.
Images/content: Each volunteer must refrain from taking photos or other recordings while at the Event (including on a smart phone) and must not store, send or use any such images or recordings, except with the Event Manager's express consent. Each volunteer consents to the publication and/or use in any form of media whatsoever of their name, image, statements or otherwise in any context pertaining to the Event or otherwise during or after the Event whether for advertising, promotions or otherwise for no fee or remuneration.
Information and privacy: The information provided by volunteers is being collected by the Event Manager and will be used for Event administration and volunteer co-ordination by the Event Manager in accordance with its Privacy Policy http://goodfridayapl.wpengine.com/privacy_policy/ including for communicating with volunteers about the Event. Each volunteer's contact details will also be included in the Event volunteer database. Each volunteer can seek access to personal information the Event Manager holds about them or obtain a copy of its privacy policy by contacting volunteers@goodfridayappeal.com.au. The Event Manager may transfer your personal information outside of Australia. If you choose not to provide information, the Event Manager may not allow you to assist in relation to the Event. The Event Manager's privacy policy contains information regarding how you may access and correct the personal information that it holds about you, how you can complain about how it collects or uses that personal information and how it will deal with such a complaint.
Insurance: Volunteers will be covered by the Event Volunteer Personal Accident Insurance policy. The terms of this policy are available on request and each volunteer understands that their ability to make a claim under the policy is subject to their compliance with the terms of the policy.
Variation: The Event Manager reserves the right to alter these terms and conditions up to the date of the Event. Variations will be sent to volunteers from time to time which they must review. By continuing to participate after receiving these variations, a volunteer agrees to these variations