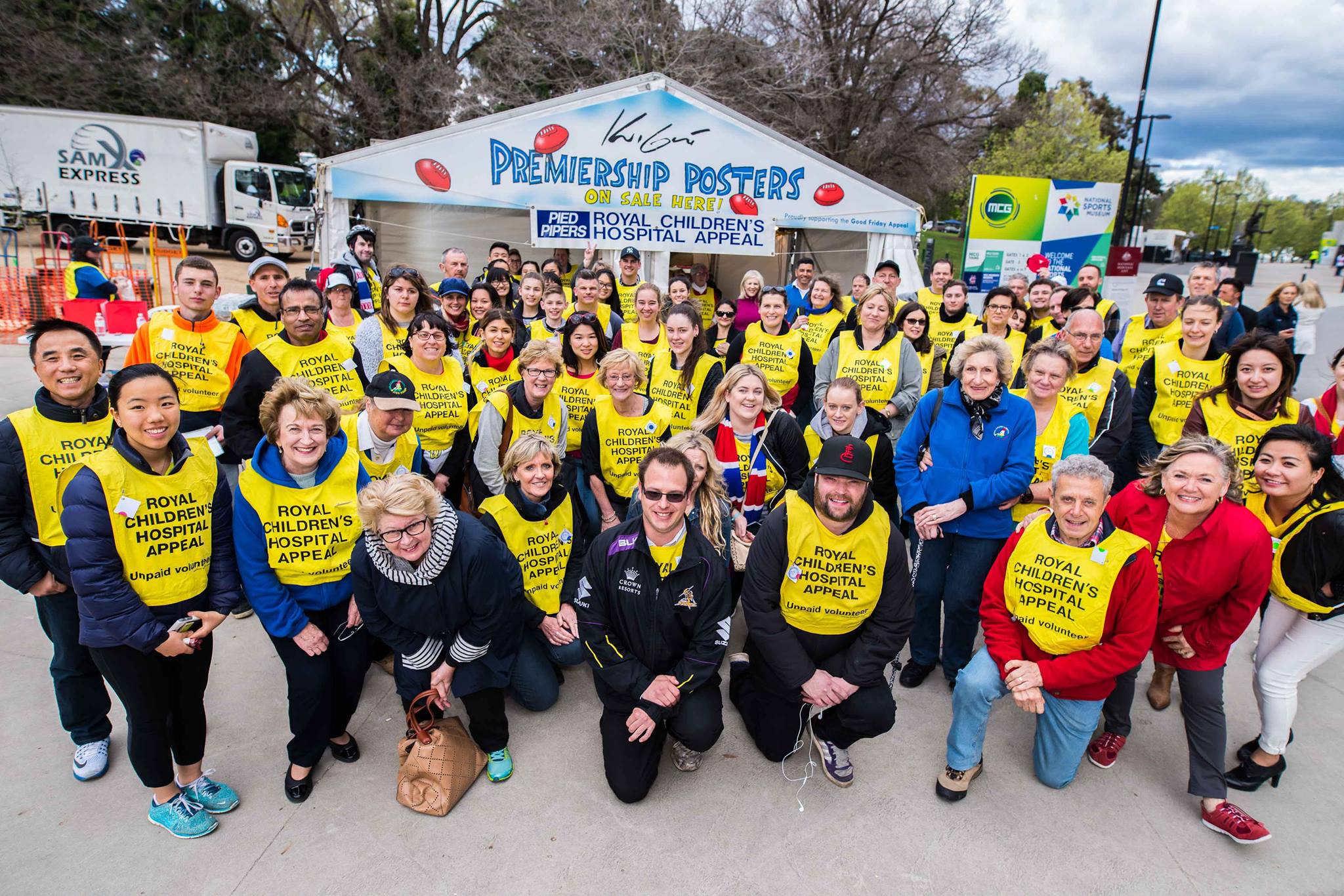 We have three authorised Collection Groups in Melbourne who are always looking for new volunteers to support their generous fundraising efforts and give their time for the kids throughout the year.
Pied Pipers
The RCH Pied Pipers is one of our key volunteer groups who have been supporting the Appeal since 1969. The RCH Pied Pipers support the Appeal through a variety of fun ways, including organising a school door knock on Good Friday, doing intersection collections and selling AFL Premiership Posters.
Uncle Bobs Club
The fundraising activities of the Uncle Bobs Club (UBC), which began in 1942, are many and varied including sports days, raffles, hotel jar collections, bingo and quiz nights. They operate through numerous branches and groups throughout metropolitan Melbourne and country Victoria.
RCH Auxiliaries
The Royal Children's Hospital Auxiliaries are network of 60 groups and around 1,000 volunteers. They raise funds in a myriad ways, from making handcraft items to running stalls and holding fundraising events, for specific areas and projects within The Royal Children's Hospital.
Thank you to our Collection Groups
There are more than 70 Collection Groups across metropolitan Melbourne who generously volunteer their time to support the Appeal. You have probably seen them collecting at intersections or conducting door knocks on Good Friday, and many fundraise throughout the year as well.
Thank you to the below groups and their supporting teams for the wonderful work they do.
Metropolitan Collection Groups
22 Engineer Regiment & Friends
Aviation Rescue Fire Fighting Melbourne
Baxter Fire Brigade
Bob Hardstaff Memorial Group
Bulla CFA
Caroline Springs Fire Brigade
Casey Group of Fire Brigades
Castlemaine Fire Brigade
Chewton CFA
Clonbinane Fire Brigade
Craigieburn CFA
Cudgee Fire Brigade
Dandenong Lions Club
Dandenong Ranges Fire Brigade Group
David Byass Group
Diamond Creek Fire Brigade
Edithvale Fire Brigade
Elmore GFA – Victoria Hotel
Elphinstone CFA Fire Brigade
Eltham Fire Brigade
Epping & Doreen Fire Brigades (CFA)
Eynesbury CFA
Frankston CFA
Friends of the Children Foundation
Friends of the GFA Roxburgh Park
German Shepherd Dog Club/Vic
Gisborne Fire Brigade
Hampton Park Fire Brigade
Hoppers Crossing Fire Brigade
Hurstbridge Fire Brigade
Kangaroo Ground Fire Brigade
Kinglake Ranges Community/Kinglake CFA
Knox Fire Brigades Group
Koroit Fire Brigade
Korong Vale CFA
Laharum CFA
Longwarry & District CFA
Maroondah District Girl Guides
Mooroolbark & Chirnside Park Fire Brigade
Mount Eliza Fire Brigade
Multiverse Science Fiction Group
Narre Warren & Berwick Fire Brigades
Nillumbik Group of Fire Brigades
North Victoria Sri Lankan Welfare Association
North Warrandyte Fire Brigade
Officer CFA
Official Richmond Cheer Squad
Pakenham & District Fire Brigades
Panton Hill Fire Brigade
Patterson River Fire Brigade
Paynesville Fire Brigade
Pied Pipers
Point Cook Fire Brigade & Community
Redesdale Rural Fire Brigade
Research Fire Brigade
Seville CFA
SICMAA
South Warrandyte CFA
Springvale Fire Brigade
Sri Lanka German Technical Training Institute OBA Aust Inc
St Andrews Fire Brigade
St Anthony's Youth Group
Sunbury CFA/SES
Tabitha Allen Group
Torquay Lions Club
Truganina CFA
Uncle Bobs Club
Warburton CFA
Warrandyte Fire Brigade
WCF Collection Group
Werribee CFA
Winchelsea SES
Wonga Park CFA
Yarra Junction Fire Brigade
Yarrambat CFA
Supporter Spotlight
The German Shepherd Dog Club Victoria has been fundraising for the Good Friday Appeal since 1983. Each year their members are out shaking tins for the kids.