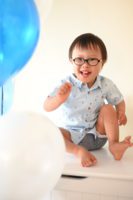 All Stories
Seven-Day Old Joshua's Open Heart Surgery
Our son, Joshua, was born 3 years ago at a metro Melbourne hospital.

Having a prenatal diagnosis of Down Syndrome, we had him close to RCH – "just in case". We knew we had to keep a close eye on his heart after birth due to a heart condition we could see on the ultrasounds.

Joshua thankfully was well at birth – we were so excited to take him home! However, on day 3, he became unwell. We struggled to regulate his body temperature, struggled to feed him, and his blood sugar levels dropped…
In the early hours of his 4th day of life, he was transferred via PIPER to RCH ICU. Joshua's aortic arch was narrowing. On day 7 of life, he had his first open-heart surgery – to widen his aortic arch. It felt like the longest 8 hours away from him. We are so thankful that all went well.

Recovery took a while and Joshua still had a hole in his heart (AVSD) which was planned for repairs at a later date. We stayed at RCH until this second surgery when Joshua was 3 months. We were so thankful and relieved once again for a successful surgery. We were able to take Joshua home after 121 days – because of the amazing surgeons, physicians, nurses, allied health team at RCH, and the incredible work they do.