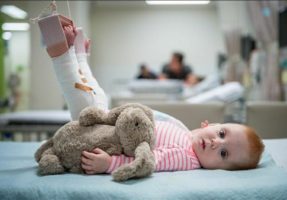 All Stories
Aria Faces all Challenges with a Smile on her Face
My daughter Aria was born in 2016 with a very rare illness called Pierre Robin sequence, meaning small jaw, cleft pallet, and club foot.

Aria was taken to the Butterfly Ward at the RCH and the care she received from the beginning was incredible. Due to Aria having respiratory problems, we were advised jaw surgery was the best to bring her jaw forward. At 13 weeks of age, during surgery, she had a stroke due to a hole in her heart. The team at the Children's Hospital was amazing and while she was being cared for, we stayed at the Ronald McDonald house so we could be close to her.

Since then we have been frequent visitors to the hospital, back and forth for appointments and surgeries. On top of her Pierre Robin sequence, she has epilepsy causing seizures and surgeries for hip dysplasia.

Aria is such a strong girl who faces all challenges with a smile on her face and we cannot thank the Children's Hospital enough for everything they have done for our family and Aria. Each year we participate in the Run 4 Kids to raise money for the RCH so other families can experience the love, help, and support we experienced.