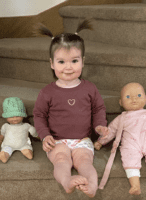 All Stories
Alice's Parents "Lucky to have RCH" in "Lonely and Scary Time"
When Alice was just 7 days old she stopped keeping her feeds down and was hard to wake.

We took her to RCH emergency and she was admitted to NICU that night as they tried to diagnose her. Only one of us could stay with her due to Covid restrictions, and I had to learn to pump for the first time in the NICU machines provided.

The next day a scan indicated she had malrotation of the gut and the surgery was almost done.
She spent another week recovering in NICU, slowly working her way back from TPN to breastfeeding. We couldn't say overnight or visit at the same time so my husband and I visited in shifts during lockdown.

It was a lonely and scary time but we are so lucky we have the RCH. We are so in awe and so grateful for the work of all the staff, particularly the butterfly ward staff. The NICU nurses were actual angels and looked after us as well as the baby. They also answered all our many questions, not just about Alicss surgery, but how to look after a newborn for the first time! Alice is a thriving bossy toddler now and we count our blessings every day!