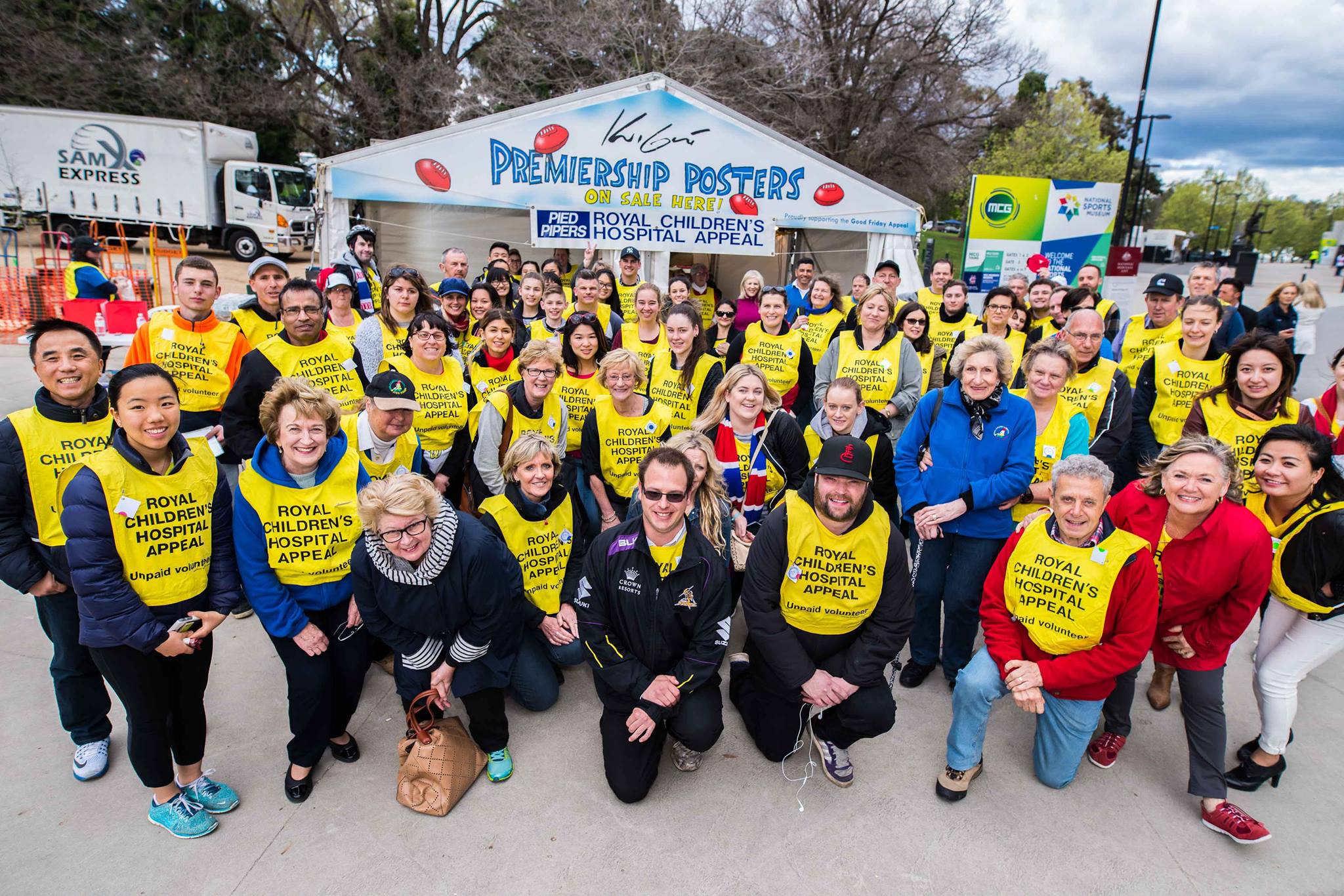 Pied Pipers
While the legend of the Pied Piper of Hamelin is uncertain, there is no doubt about the goodwill of the namesake organisation in Melbourne.
The Pied Pipers has been one of the key volunteer groups that support the Good Friday Appeal to raise money for the Royal Children's Hospital. Next year they celebrate a milestone – their 50th year of fundraising.
It's a small group, with a core membership of about 25, but its numbers swell to hundreds of volunteers for its main fundraising events – tin rattling at intersections on Good Friday and selling AFL premiership posters on Grand Final Day. The group has raised more than $8 million since it was formed in 1969.
Founding member Margaret Lee, 78, remembers the first meeting at the Tower Hotel in Hawthorn when a group of "like-minded people" decided to form the social and fundraising club they called the Pied Pipers.
Since then Mrs Lee has only missed one Appeal and she still regularly catches up with several other founding members on a social basis. One of them, Michael Gainger, continues to coordinate the Pied Pipers' schools program across 13 eastern suburbs secondary colleges.
Reminiscing about her involvement with the group, Mrs Lee, attributes much of the Pied Pipers' early media profile to her career in TV advertising – and where she lived.
For five years, she boarded with AFL legend Lou Richards and his wife Edna and says they encouraged her work with the Pied Pipers and introduced her to journalists, who were instrumental in the development of the premiership poster project.
Today, the Pied Pipers continue led by president Nicole Brogden. Although she's been involved for nearly 18 years, the cause has become more personal in recent years with both her children now regular patients at the RCH to monitor their cystic fibrosis.
Ms Brogden is one of the youngest on the committee and is very keen to attract more young people to the group.
"We would love to get some fresh new faces with new ideas," Ms Brogden said. "People who are up-to-date with social media, people who want to drive the club."