Meet Willow
Willow, who has neuroblastoma, is the first child at The Royal Children's Hospital to be signed up to an international trial testing a new treatment.
Willow Lawton does not understand what cancer is, only that it has taken away her "baby hair".
And a rainbow-shaped scar on her abdomen is the reason why the three-year-old can spend a month at a time confined to her hospital room, away from her two beloved older brothers.
She knows "a tumour" is the reason for a medicine-feeding tube taped to her cheek, going into her nose.
Only later may she ­appreciate that a crack team of oncologists – the brightest minds in Victoria, another network of Australian specialists, and experts from the US – are working to find the right combination of treatment to overcome the neuroblastoma that continues to invade her tiny bones.
Willow is the first child at The Royal Children's Hospital to be signed up to an international trial testing a new combination treatment – a different kind of chemotherapy and an immunotherapy – and a promising medication called DFMO.
The drug, difluoromethylornithine, aims to starve the neuroblastoma cells, restricting their growth and spread.
Willow took a textbook path to diagnosis in September last year.
A two-year-old child first develops a limp. Next they ­become irritable, pale and generally "off".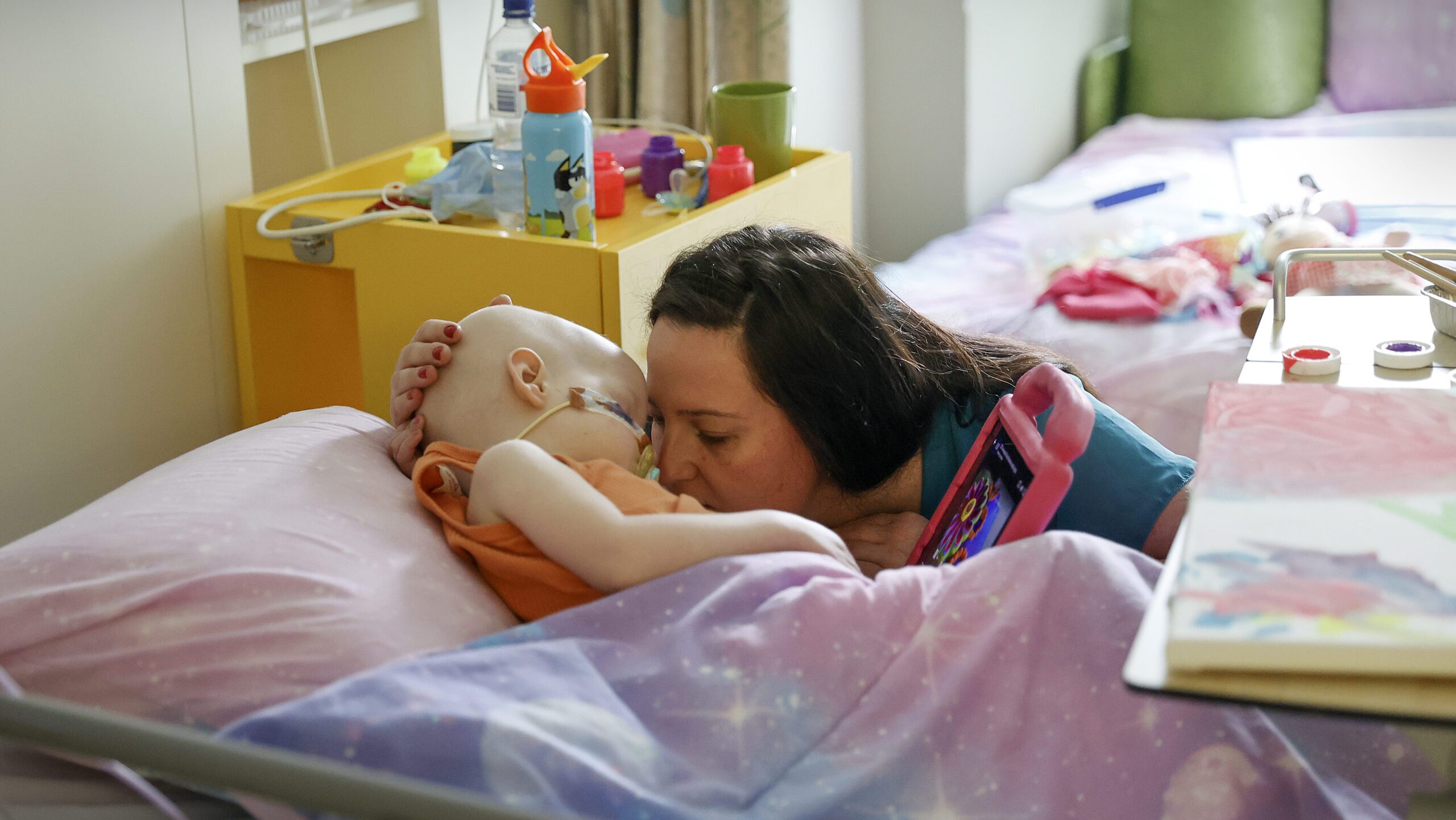 Given the vagueness of the symptoms, neuroblastoma is typically diagnosed at stage 4. In addition to the main ­tumour that grows on the ­adrenal gland on top of the ­kidneys, this cancer invades lymph nodes and bones.
Children diagnosed with neuroblastoma need at least two years of treatment.
Willow's oncologist, Molly Williams, the only dual-qualified pediatric solid tumour and neuro-oncologist plus palliative care specialist in the state, said when she started working in the field 15 years ago few children were cured.
But with the addition of high-dose chemotherapy and immunotherapy on top of the standard chemotherapy, surgery and radiation, survival rates were now well above 50 per cent.
Willow, however, has been "one outside the box".
While the initial induction chemotherapy shrank the ­tumour enough that she progressed to surgery as planned, unusually the cancerous cells in her bones increased.
"This does make us scratch our heads, and back when I started in oncology we'd get extremely nervous about these kids," Dr Williams said.
"But now we've got a few more tools in our basket and we've still got a lot we can throw at Willow."
Mum Kirsty Whitbread and Willow make the most of each day and each hospital stay. They wheel in a trolley for each hospital admission that contains matching quilts, fairy lights, musical ­instruments and supplies to create an instant art gallery behind her bed for the crafty creations she makes while room-bound.
Willow has just started kindergarten on the ward, and is relishing the chance to do music and art therapy now that Covid restrictions have eased – all part of the RCH's mantra about treating the whole child, not just focusing on medical treatment.
"I just want them to find the individualised treatment that works for Willow so her disease stabilises and we can start to get rid of it," Ms Whitbread said.
"She's gone from this healthy, bubbly, social child to now being so removed from all other kids.
"I can't even take her to the supermarket because she's so immune suppressed. She ­deserves the chance to be a normal kid."
Give to help kids like Willow