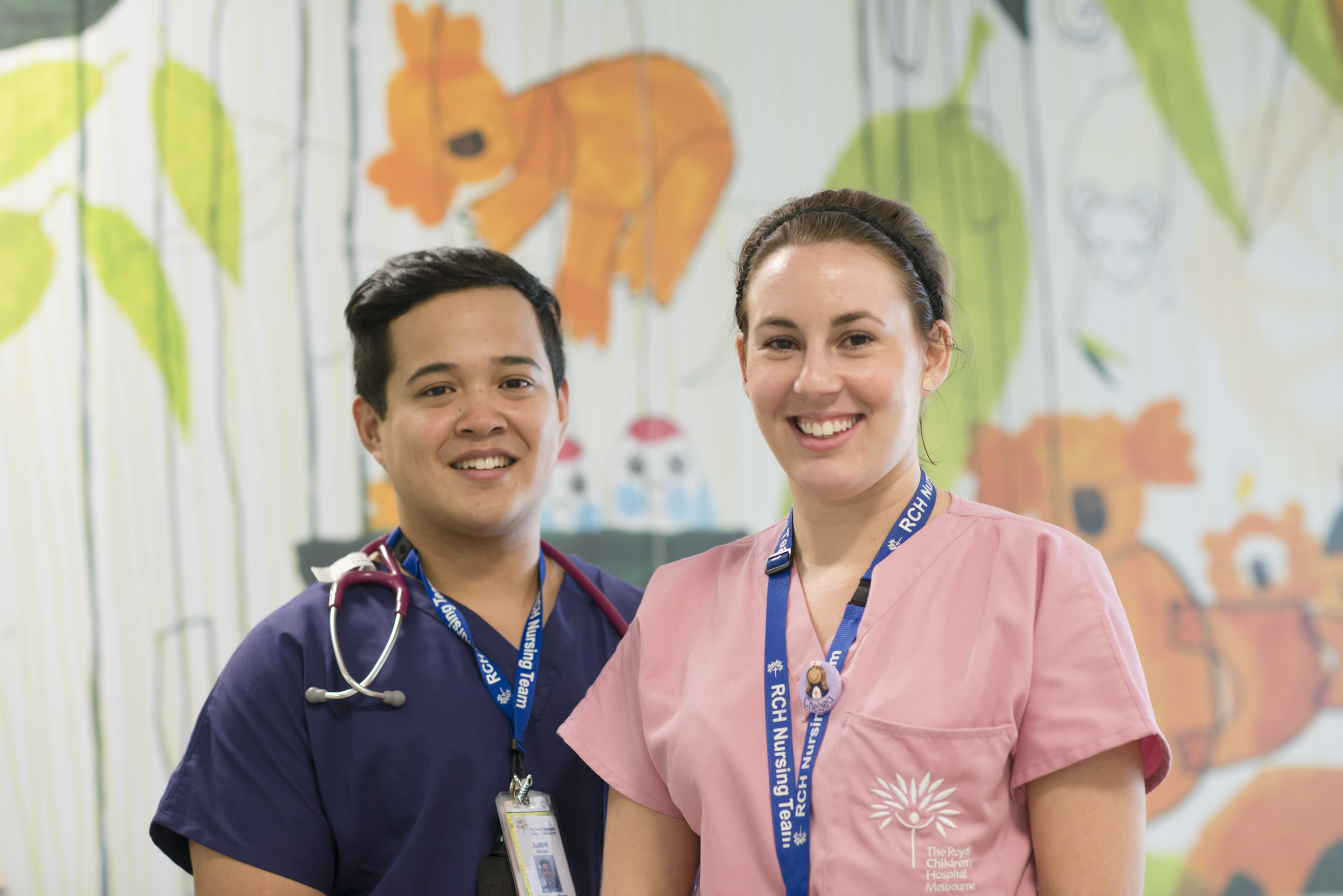 Meet the nurses: Koala Ward
Meet nurses, Chelsea and Justin.,who work on the Koala ward which provides specialist care to patients with both cardiac and renal conditions.
The Royal Children's Hospital is the largest paediatric cardiac centre in Australia and performs over 16,000 cardiac procedures a year on patients from all over Victoria and Australia, as well as overseas.
On level three in the 'treetops' of the RCH, you'll find Koala ward which provides specialist care to patients with both cardiac and renal conditions.
These patients are cared for by nurses like Justin and Chelsea, who told us what it's like to work as a cardiac care nurse.
Can you tell us about the type of patients you care for?
Chelsea: Koala ward looks after patients of all ages ranging from newborns through to adolescents. We provide specialist cardiac and renal treatment care including for patients who have had heart and kidney transplants.
Justin: These kids have come from all over the country to receive specialist cardiac and renal care. So we get to meet a variety of different people and their families from all over Australia, and even sometimes from overseas.
What makes Koala unique to other wards?
Chelsea: Koala is a critical care ward that cares for specialised patients all over Australia and overseas. It is the only paediatric cardiac ward in Australia that cares for patients on Paediatric Ventricular Assist Devices, including both Berlin Heart and Heartware.
Justin: On Koala we get a mix of surgical and medical patients, both of which can be of high acuity.
What attracted you to working at the RCH on Koala ward?
Chelsea: When I was 14 I had a sporting injury and was taken to the RCH. My brief experience as a patient in the Emergency Department encouraged my nursing interest and is the main reason for me entering the field – it was always a dream to work at the RCH! I have also always been interested in the way the heart works, it fascinates me because it is such an amazing organ, so Koala was the obvious choice for me.
Justin: I have always had an interest in paediatric medicine and cardiology, so working on Koala gives me experience in both of these areas. Also, Koala receives heart and kidney transplants, treats hypoplastic left heart syndromes, and manages patients paediatric ventricular assist devices. It's pretty exciting to be a part of.
Why did you get into nursing?
Chelsea: I became a nurse because I wanted to help people and make a difference in the world. These differences can be small things like putting a smile on your patients face or making them laugh. And then you can be involved in bigger things like working with intelligent and dedicated staff to save someone's life. Being a nurse is incredibly rewarding, challenging and enjoyable.
Justin: I didn't always want to do nursing, so I was a bit late onto the nursing scene. As I got older I realised I needed a career that was fulfilling, involved working with an awesome team, and making a difference in peoples lives, and nursing ticked all of those boxes for me.
What's the most rewarding thing about your role?
Chelsea: When patients arrive on Koala they are usually quite unwell. After they've had surgery or other medical interventions we see them get a little bit better everyday. It's amazing to watch their bodies recover and their personalities come back to life. I love seeing patients walk out the door and knowing we helped them get better.
Justin: Being able to work together in a team to provide care and support for not only the patients but their families and friends as well.
How do you relax after a long shift?
Chelsea: By sitting on the couch and watching a movie or having a cat nap! I also like walking my dog or catching up with friends and family for a chat over some delicious food.
Justin: To relax after a long shift I either go to the gym, walk my dog, or sit on the couch and binge watch TV. Any activity that doesn't require much brain activity!
Originally published on the RCH Blog