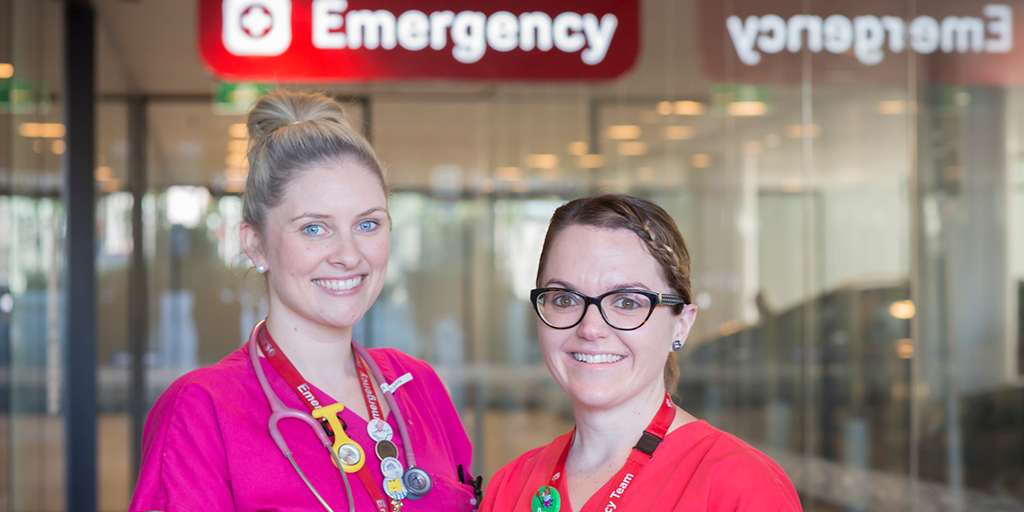 Meet the nurses: Emergency Department
Ashlea and Bec tell us about being nurses in the Emergency Department
Our Emergency Department (ED) is often the first port of call for many who attend the hospital, providing urgent medical care to children and teens from across the state.
Last year, the department saw nearly 90,000 children ranging from newborns to teenagers.
A team of doctors, nurses, clerical and allied health staff (such as social work and mental health workers) ensure the department is able to see patients 24 hours a day, seven days a week, 365 days a year.
We caught up with Bec and Ashlea who told us what life is like as a nurse in the Emergency Department.
Can you tell us about the patients you care for?

Ashlea: These can range from the critically ill, including multi-trauma victims and severe asthma patients, through to minor lacerations and children with viral symptoms. Our patients range form newborns through to teenagers, and it can be their first presentation or a child with a complex medical history who has visited the ED on multiple previous occasions.
Bec: Emergency is a particularly unique environment in which we care for paediatric patients of all ages who can present with a range of illnesses and injuries. The diversity of patient presentations is vast and I feel like we see EVERYTHING!
How do you decide which patients get seen first?
Bec: Each patient who presents to Emergency is seen by a highly-skilled triage nurse. This nurse will rapidly assess each child and triage them as per the Australasian triage scale. This then determines how quickly a patient is seen with the sickest of our patients seen first.
Why did you get into nursing?
Bec: I often wonder the same thing. But one thing I do know is that I would not want to do anything else. You inevitably become a part of a person's life during a time of need. To be able to help a child and their family the best you can, through what can be an extremely stressful situation and see the improvement, the smile, or see them go home is extremely satisfying. I am grateful for this opportunity.
Ashlea: I am not sure exactly why I chose to be a nurse, I just know from a young age I always wanted to work in a profession where I was able to make a difference in peoples lives. I think this likely stemmed from my grandparents, who have been in the the CFA for over 50 years and an ambulance officer for over 25 years.
What attracted you to working in Emergency?
Bec: The department is fast-paced, demanding and keeps me on my toes. It challenges me and there is never a day that I do not learn something new. I love that everyday is different. No day is ever the same as the last.
Ashlea: As an undergraduate nursing student I knew I wanted to work in paediatrics and strived to get my grad year at RCH. Since then I have worked in multiple departments within RCH, but have found my passion in Emergency Nursing. I love the variety of patient presentations and the autonomy in patient care we have in Emergency.
How do you cope with working in such a high-pressured environment?
Bec: The department can at times be chaotic and extremely high pressured. It requires you to act promptly and think on your feet. But we are so fortunate to have an extremely supportive multidisciplinary Emergency team. We all look out for each other and make sure that patients are receiving the best care we can possibly deliver.
Ashlea: I enjoy working in a challenging environment, although I think this is greatly enhanced by the Emergency Department's fantastic interdisciplinary supportive culture. Everyone is always happy to help one another and it is ultimately a team environment.
What's the most rewarding thing about your roles?
Bec: The amazing team I work with. I work alongside incredibly intelligent, resilient and resourceful individuals who come together and work as an amazing team, even during the toughest of times.
Ashlea: Being able to assist both patients and their families during a significant time in their lives.
How do you relax after a long shift?
Bec: Relaxing usually involves a quiet walk in the sun or chilling on the couch with the pooch….in fact, it is anything where I can switch my brain off from noise. I also have an extremely supportive fiancé who is a great listener and makes sure I get some ME time.
Ashlea: I enjoy getting out in the sunshine, buying fresh flowers, planning our next holiday, and catching up for brunch with friends.
If you weren't a nurse, what would you be doing instead?
Bec: I would love to volunteer in a third world country looking after disadvantaged children.
Ashlea: I actually have a bit of addiction to property, and would love to work in the property investment industry, but I don't think I could ever give up nursing completely.