Meet Piper
Piper has been treated by a series of firsts at The Royal Children's Hospital to help reduce the severity of her seizures.
From their picturesque property in Panton Hill, Piper Crawford's family live at the whim of neurological storms that roll in and cause havoc.
When the six-year-old is seizure-free, mum Sara likens the family of five's existence to sitting at the edge of a cliff. It's a stunning view, but there is the immediate threat — one felt constantly — that they could topple off at any time.
"We haven't been able to take a step back from the edge of the cliff, but we've come to understand that along with Piper's condition we have a cycle of grieving," Mrs Crawford said.
"We're now in a place where we know we are going to get through to the other side, and we've learnt to really appreciate those windows in between and what quality of life is."
Herald Sun readers first met Piper four years ago when she was aged two.
She had been hit with eight massive clusters of epileptic seizures in as many months. The toddler needed to be resuscitated after most episodes.
Each cluster saw her needing to relearn how to walk, talk, think and even move her eyes again.
Their cause was unknown and medication could not control them.
But later that same year, the family made some progress.
Genetic testing revealed that her seizures were caused by a mutation of the PCH19 gene, a discovery made by internationally renowned Melbourne neurologist Ingrid Scheffer.
"What this diagnosis did is gave her neurologists permission to be very aggressive in her management," Mrs Crawford said.
"And that's exactly what they've done."
Piper has been treated by a series of firsts at Royal Children's Hospital over the past two years.
She has lived in ICU as a long-term patient and has been one of the youngest children to have a "pacemaker for the brain" implanted.
And now, a new drug delivery system is aiming to finally bring better quality of life to Piper and her family, despite her seizures.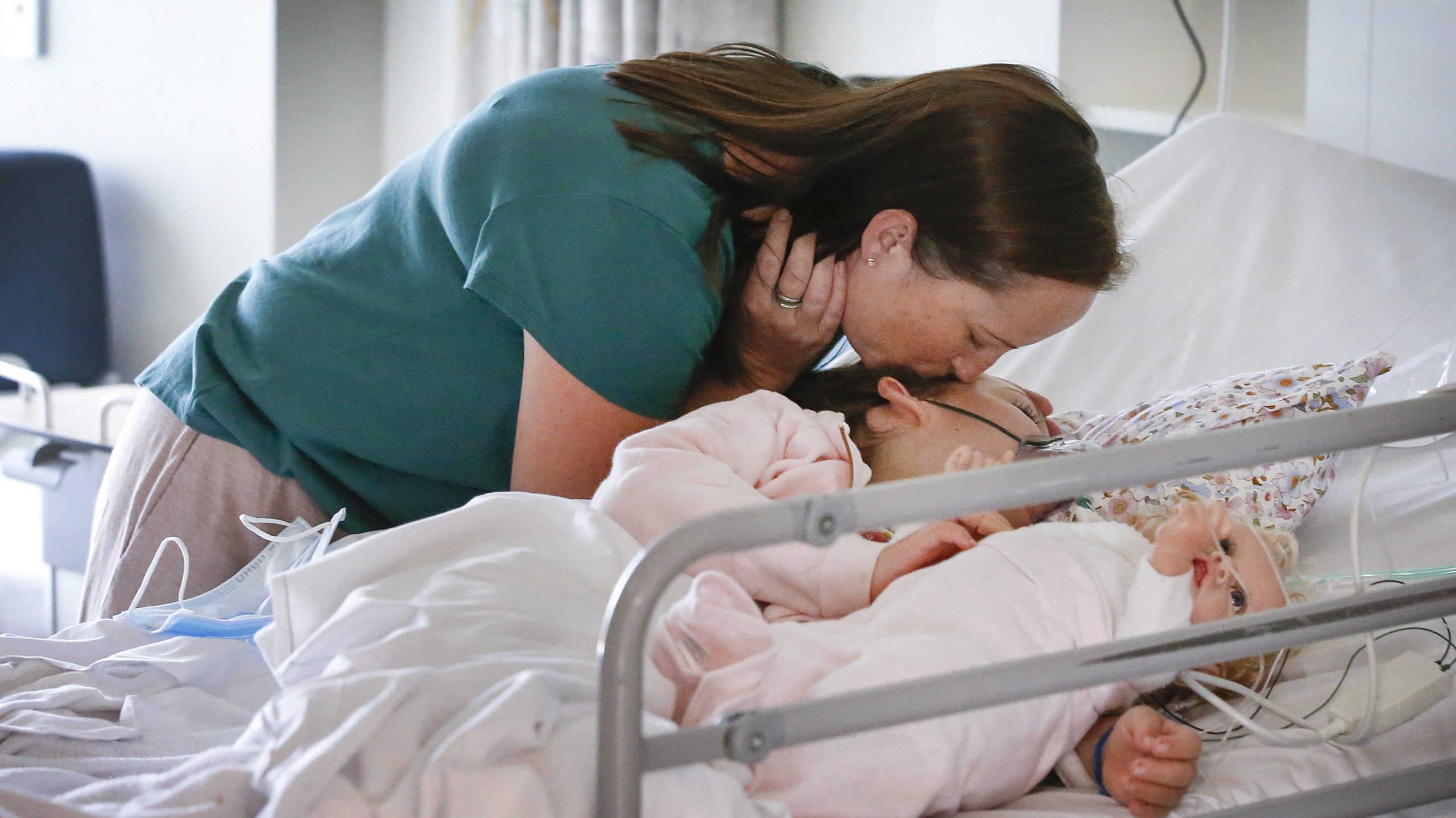 "There is still a lot of joy and positivity in our life, even in hospital," Mrs Crawford said. "We've got a very sunny, humorous little girl that makes our day.
"The hospital has acknowledged that perhaps this is as good as it's going to get with her seizure management.
"It's a little bit too hard to be swallowed up by the depths of the meaning of that when we've got such a spirited child on our hands."
The genetic diagnosis entailed the trial and error of anti-seizure medications. Neurologists went to the top shelf. This meant, though, that Piper needed to be admitted to ICU for each infusion.
"There haven been times that Piper was admitted to ICU for two weeks of each month, over the past few years," Mrs Crawford said.
"We probably spent about 18 months on this treatment cycle feeling as though we were living in ICU."
And while the treatment worked to suppress the seizures while she was receiving it and free her brain so she could develop basic childhood skills, it was not practical for a child — and their family — to live out their days in ICU indefinitely.
"But what it did was gave her the ability to develop speech, and stop progressing with physical disabilities, which were starting to accumulate back in the day due to the severity of her seizures," Mrs Crawford said.
"It could have been very dire and we could have ended up with a very physically incapable little girl. That infusion saved her."
Director of neurology Simon Harvey said they had to devise a plan that would improve Piper's quality of life so she wasn't stuck in hospital so often, but where her safety and care wasn't jeopardised.
"The difficult thing for the family is they're almost like some of the cancer families here; they're in hospital for weeks at a time repeatedly. That's not the norm for kids with epilepsy. They'd usually be out within 24 hours," Dr Harvey said.
"We have lots of children who have challenging seizures. But Piper probably is the most challenging in terms of recurrent admissions and medical intervention.
"She's our most frequent flyer."
The first step was implanting a vagal nerve stimulator in Piper. About five kids with tough to treat epilepsy receive one each year at the RCH.
It works by sending electrical pulses to the brain via the vagus nerve — one of the longest nerves in the body, running from the brain to abdomen — the theory being that it acts on the nerve pathways involved in seizures.
It's not a cure, Dr Harvey says, but it works by reducing the severity of episodes.
"I think that was the major turning point. Once that implant went in, we hadn't been back to ICU until the last admission. That was an 18-month break," Mrs Crawford said.
"Although the implant hasn't cured her, it has reduced the severity. Although she is still having seizure clusters that need to be treated in hospital, it is not requiring ICU treatment every time now. That's a massive difference to our lives."
Then, Dr Harvey and his team had to think creatively again about the next option that would help Piper and their family improve their quality of life in the longer term.
In a first for the hospital, an experimental delivery of anti-seizure treatment — a drug and subcutaneous delivery usually reserved to keep palliative care patients comfortable — is the next thing being tried to slow the electrical storm in Piper's brain. She will rely on care from the RCH's Hospital in the Home service.
"The natural history of kids with this condition is in the second decade of life seizures are less of a problem. We'd like that," Dr Harvey said.
"We've been waiting for things to settle with Piper — we thought last year was it — but the ones she's still having at the moment suggest she's still got a very active seizure disorder."
For Mrs Crawford, husband Heath and their two older children Shylah, 13, and Mason, 10, waking up in the same house together was their simple wish.
"We're ready to spread our wings and embark on the next chapter of our journey, which hopefully involves a lot more togetherness and time at home," Mrs Crawford said.