Emotions flow for little Lucy
Gorgeous Lucy has started prep this year after being diagnosed with a rare type of kidney cancer in 2019.
Young Lucy Lazzari has overcome more setbacks than most on the road to her first day of school.
The five-year-old from Geelong was diagnosed in 2019 with multiple bilateral Wilms tumours, a rare type of kidney cancer.
She has undergone major surgery, chemotherapy and blood transfusions and made dozens of trips to the Royal Children's Hospital.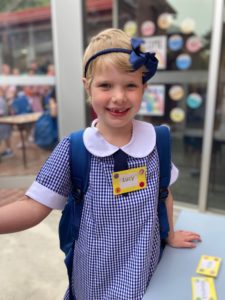 When she started prep on Thursday, emotions flowed from her proud parents.
"There were tears of joy, we were so happy for her," mum Georgie Lazzari said.
"It's such a massive milestone after such a humungous year. Our hearts were just full of joy and happiness.
"It just seemed so far away from when she was first diagnosed, the thought of school was so distant but now it's here it's like 'wow'. We gave her the biggest hug and kiss."
Ms Lazzari said while she and husband Sam were apprehensive, Lucy showed no signs of nerves and was eager to join her older brother Harry, 7, at school.
"She's been excited for school for a long time. Lucy's a very organised girl. She's got her school uniform out in the morning and her shoes and her socks and her headband, she says, 'Mum I'm ready to go'. She's the extreme opposite to her brother."
In April last year, Lucy appeared on the Herald Sun front page as part of the Good Friday Appeal coverage.
At the time, she was going through week-long stints of treatment. In May, doctors declared she was in remission.
Lucy said her favourite things at school were "meeting new friends and learning new things".